What is EcoStruxure Transformer Expert?
EcoStruxure Transformer Expert is your transformer asset advisor solution which offers real time transformer health monitoring. The solution gathers data from our smart IOT sensor, offline gas analysis, transformer configuration and the historic & future load of the asset. Using this information, our smart algorithms perform trend analysis, forecasting and risk assessment. This information is then used to provide insights and recommendations about the transformer. The solution brochure can be downloaded here.
EcoStruxure Transformer Expert utilizes the integrated sensors (temperature, moisture, PD, vibration & hydrogen) and its smart algorithms, developed based on IEEE & CIGRE standards and research papers, to detect abnormal behavior in a transformer's health.
The solution consists of two parts: (1) EcoStruxure Transformer Expert Sensor and (2) Dashboard.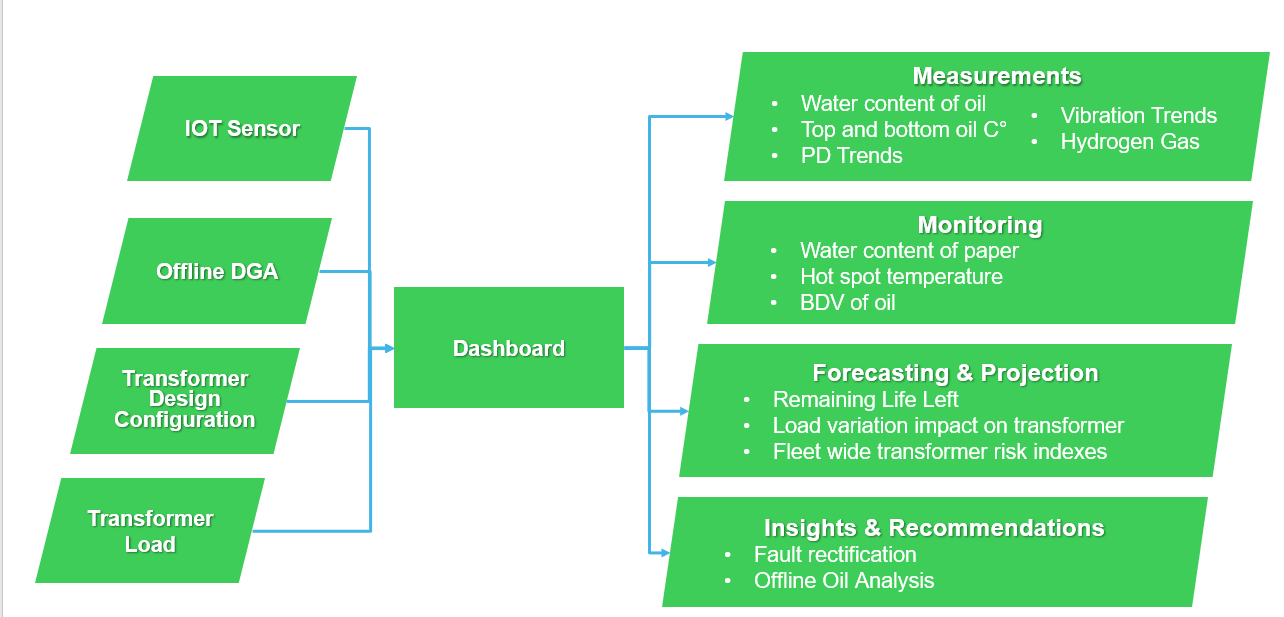 (1) EcoStruxure Transformer Expert Sensor
The EcoStruxure Transformer Expert hardware is capable of measuring key transformer parameters and transmitting the information to our dashboard, where it is analyzed and displayed in a graphical format. There are five different sensors integrated into the probe of the device to measure:
Water Activity
Temperature
Partial Discharge
Vibration
Hydrogen (Optional)
Basic Model
EcoStruxure Transformer Expert
Hydrogen Models
EcoStruxure Transformer Expert with H2 Dual Sensor
EcoStruxure Transformer Expert with H2 Integrated Sensor
How is EcoStruxure Transformer Expert installed?
The EcoStruxure Transformer Expert Sensor is installed in an oil valve to facilitate continuous monitoring. The interface with the oil valve is via a 3/4" female thread. Depending on the type of oil valve, you may need additional hardware items to install ETE.
To learn about the complete installation procedure please visit our planning & installation guide.
Does the sensor need in-field calibration and what is the warranty?
The EcoStruxure Transformer Expert Sensor is a factory calibrated solid state sensor and requires no field calibration. The solution has life time warranty under valid subscription. To learn more please visit this article.
(2) EcoStruxure Transformer Expert Dashboard
The EcoStruxure Transformer Expert Dashboard is the web-based application where all the information from the sensor can be viewed. The dashboard algorithms are supported by IEEE & Cigre standards and are capable of a range of data analytics. The results are then displayed in graphical and tabular formats. Customers have access to fleet wide health visibility, forecasting, insights and recommendations.
A short demonstration video of the dashboard can be found below. To learn more about the dashboard, please visit this section.
How does the sensor communicate and is it secure?
Communication with The Dashboard:
The sensor transmits via local 3G/4G network and comes with fully provisioned telecommunication functions requiring no configuration effort at installation time. Good 3G/4G signal strength is vital for successful communication. If 3G/4G signals are not available at the site, our team can discuss alternative options.
Cyber Security:
Schneider Electric has designed the IoT data transfer processes, storage, access and management operations to be compliant with the EU Power Utility Data Security requirements. The security architecture protects customer data using four key features. To learn more please visit this article.
Communication with SCADA:
This can be done via our API. The Schneider Electric Open API enables access to the EcoStruxure Transformer Expert Dashboard proprietary processing algorithm outputs, i.e. the graphs on your EcoStruxure Transformer Expert dashboard. To learn more please visit this article.
How can I learn more about the research behind the solution?
The knowledge base and technical research papers can be found here.
What benefits can we expect?
There are many ways customers can benefit from the EcoStruxure Transformer Expert:
Capital savings by extending the life of a transformer, and therefore delaying the costs associated with replacement.
Detection of minor failures which can be fixed before they develop into major/catastrophic failures.
Overall health monitoring, allowing asset managers to determine if overloading the transformer is safe. The amount and duration of overloading is highly dependent on the transformer. Overloading a transformer too much or for too long can also cause damage, so it's crucial to understand what the transformer is capable of.
Reduction in the probability of transformer failure in a manufacturing plant.
Reduction in the probability of transformer failure in a power generation plant.
Reduction in the frequency of offline DGA. This is particularly valuable in cases where a transformer is in a remote or difficult location and oil sample collection is costly.
These savings can be approximated using our ROI Tool.
Case Examples
Below are some examples where different EcoStruxure Transformer Expert Dashboard features have helped customers save capital in different ways.
Partial Discharge
Vibration
Scenarios
Insights (and Condition Index)
To download case studies, data sheets and specifications, please visit this link.