Adding large numbers of oil tests manually can be a long process. Uploading a CSV file containing your oil test data may be a better option.
In order for your data to be correctly imported into the system your CSV file must contain the following headers:
test_date (in the format yyyy-mm-dd)
oil_temp (

decimal value

in degrees celsius)
The following headers are used for the Dissolved Gas Analysis. All are decimal values in parts per million, ppm:
h2
o2
n2
co
co2
ch4
c2h6
c2h4
c2h2
You can also include the optional headers for oil quality:
two_fal_furans (decimal value in ppm)

moisture (decimal value in ppm)

di_electric (decimal value in kV)

acidity (decimal value in mg KOH/g)
Any other headers will be ignored. The filename of the uploaded csv can be your choice.
An example csv file is attached to this article.
Uploading your csv
The upload functionality is available from the Oil tab at the top of the Transformer Dashboard.
In top right above the table there are 2 buttons, The "ADD NEW OIL TEST" will open the form to enter an oil test manually and the "UPLOAD OIL TEST" button will open the file upload window.
After clicking on the button a dialogue box will open prompting you to select a CSV file. Click the 'Choose file' button to open the file explorer and select the CSV file you want to upload.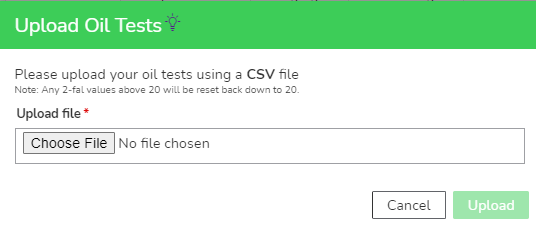 Once selected you should see the file name next to the button.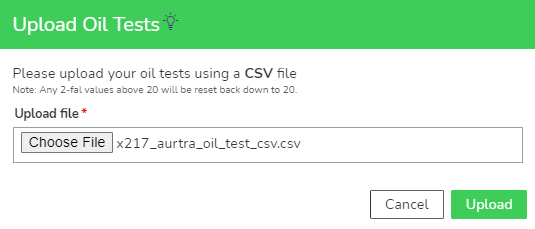 You can click Upload in the bottom right to import your data.
If the file has uploaded successfully, results will be seen in the Oil Test Results tab on the transformer detail page.
If the process fails you will see "Failed to upload" appear at the bottom of the window. This can be due to the required headers not being present in the csv. If the issue persists you can contact support.dts@se.com for assistance.