Measured data, sophisticated proprietary algorithms, and the configuration for that particular transformer are used to create a transformer model to provide Water Content of Paper (WCP) graphs for the top, bottom, and hotspot of the transformer.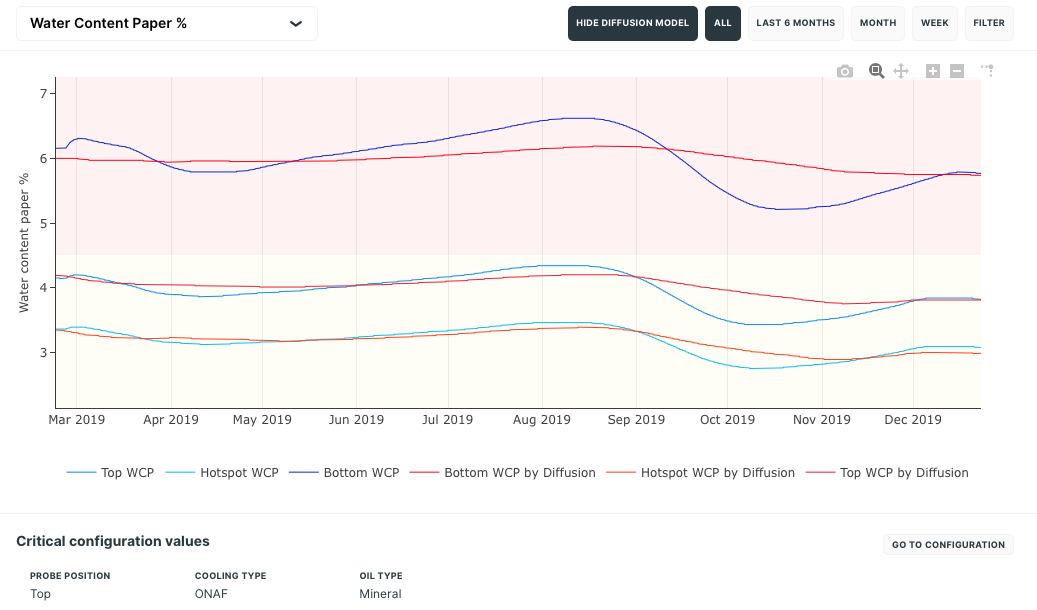 The graph displays WCP derived using two methods. Standard WCP model using industry-standard methods for calculating the water content of paper over the measurement period [1][2][3]. The water content paper is derived by averaging out the calculated WCP over time, using a static equation that represents the relationship between the temperature and moisture activity measured by the sensor, the moisture in the oil, and the water content of the paper.
The WCP by diffusion shows the change in WCP over time using Aurtra's Diffusion Model, which takes into account moisture mass flow in the model. Taking advantage of dynamic equations for moisture movement, the model breaks activity up into small segments and calculates the moisture moving in and out of the paper. The rate of diffusion is based on the difference in water pressure between layers.
This is done based on a finite-difference model which calculates the movement of moisture from the oil to the paper and deeper through layers of paper. The model also differentiates the rates of diffusion between various paper thicknesses and the location of the paper within the transformer.
Ultimately this provides a more realistic view of the movement of water within the paper-oil insulation system, however, the resulting water content of the paper of the diffusion model will asymptote to the same values as the Standard WCP model.
Note: All calculations used to derive the various conditions of the transformer utilize the Standard WCP model.
The WCP by diffusion plots can be hidden on the graph by clicking HIDE DIFFUSION MODEL at the top of the graph.
Background colors are based on IEEE Std C57.152-2013 [4]:
Dry Insulation: 0 – 2%
Wet Insulation: 2 – 4.5%
Very Wet Insulation: 4.5%+
Configuration
The accuracy of this graph is dependent on the following configuration values:
Probe Position
External Temperature Sensor
Cooling Type
Estimated Future Daily Load %
Oil Type
To adjust these values, please review the Configuration tab which can be accessed in Edit Transformer in the top right of the Aurtra Dashboard.
[1] Saha, Tapan Kumar, and Purkait, Prithwiraj. Transformer Ageing: Monitoring and Estimation Techniques: Monitoring and Estimation Techniques. 1st ed., Wiley, 2017.
[2] Gradnik T, Čucek B, Koncan-Gradnik M. Temperature and chemical impact on determination of water content in dielectric liquids by capacitive moisture sensors. IEEE International Conference on Dielectric Liquids, Slovenia, 2014, pp. 381–384.
[3] Lelekakis N, Wijaya J, Martin D, Saha T, Susa D, Krause C. Aging rate of Grade 3 presspaper insulation used in power transformer. IEEE Transactions on Dielectrics and Electrical Insulation 2014; 21(5): 2355–2362.
[4] IEEE Guide for Diagnostic Field Testing of Fluid-Filled Power Transformers, Regulators, and reactors," in IEEE Std C57.152-2013, vol., no., pp.1-121, 21 June 2013