The Aging Risk Index looks at whether the transformer as an asset is being exposed to accelerated aging especially given its age. A high risk score may indicate that the asset is being exposed to conditions that increase the rate of aging of the asset, increasing the frequency of maintenance services, and unnecessarily bringing the forward replacement. These conditions include operating at full load during high-temperature events or having poor cooling system configurations installed.
The Aging Risk Index graph gives a succinct view of how the risks scored in each sub-index is affecting the major index.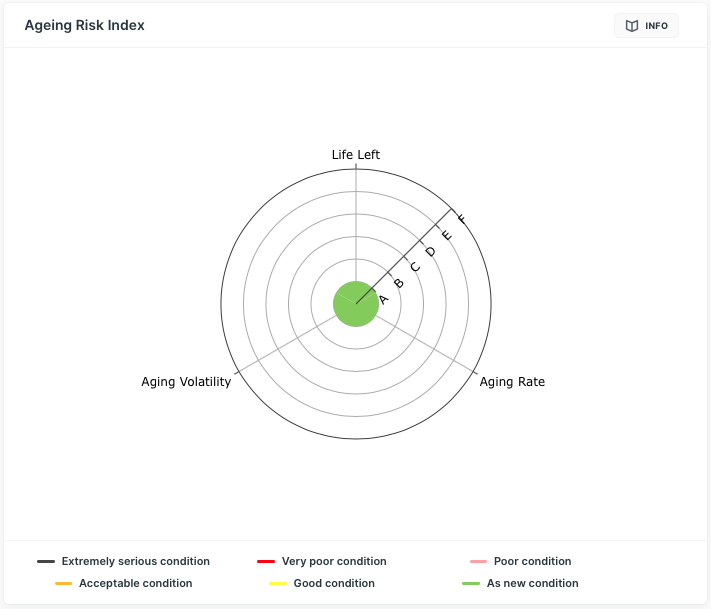 The Aging Risk Index is derived from the following sub-indexes related to insulation paper aging:
Life Left
Years left until the solid insulation has reached the end of life. This is considered to be around a DP of 200-250 depending on the level of stress on the transformer and also takes into account the importance of the transformer based on the MVA size or if peak load is above 50% (which may mean the transformer cannot be covered normal N+1 redundancy arrangements).
Aging Rate
This sub-index assesses and scores the risk to the rate of aging of the transformer insulation. An increasing rate of aging will result in an increased risk to the life left of the asset.
Aging volatility
(HealthSense only)
The increase in the rate of aging as a result of growth in load over the observation period (up to 5 years), taking into account variability in load, as high volatility in the load can increase the risk of accelerated aging.